Leasing Homes 7 Days/Week
We ensure the home can be seen 7 days a week.

Love Us or Leave Us Guarantee
No long-term contracts means Landlords Terminate our service with no termination fees
Rent Payment Guarantee
If your home is vacant we do not charge a management fee.
Proven answers to your property's management needs
Why Choose Rental Guys Property Management?
Discover how we optimize your home for success
We Maintain an Open Line of Communication
At Rental Guys Property Management, we strive to offer the best customer service in the industry. We work hard to keep both our clients and our tenants happy—and the results speak for themselves! We're friendly, accessible, and always happy to help however we can.
Our Team Knows the Law, Plain and Simple
You could find yourself in hot water if you don't respect the laws that govern your tenant-landlord relationship. Don't leave things up to chance; instead, work with a property manager who pays attention to the rules. We keep you protected and limit any potential liability.
Powerful Technology Keeps Us Operating Efficiently
Unlike some property managers stuck in the past, we're always looking to the future. We use a number of powerful technological resources to provide the best property management product possible. From virtual rent payments to online financial statements, we handle many of our operations digitally, making it easy to stay in touch with us.
Trusted Local Vendors Partner with Us
Don't leave your home in the hands of just anybody. At Rental Guys Property Management, we've built relationships with some of the most trusted vendors in Jacksonville. When maintenance needs arise, we work with our partners to get the problem solved quickly and at the best rate possible.
You Can Count on Our Experience
Your property shouldn't be treated like an experiment. Lots of property managers have great ideas, but they've never actually delivered on their promises. You won't need to worry about that when working with us. We've successfully helped countless property owners—isn't it time you joined the club?
Latest Property Management Articles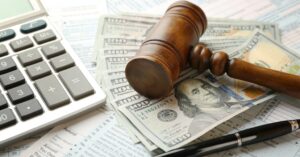 If you own rental property, are you taking advantage of all tax breaks available to you? Stocks, Bonds, Mutual Funds, Real Estate, and many other types of investments are all subject to taxes of some sort. Owning rental property can reward you with some very helpful tax breaks come spring time each year and things…
Read More
Jacksonville's Property Management Experts
We know Jacksonville and NW St. Johns County . We know rental homes.
If you own a Florida rental home, you likely know how difficult is can be to find the right property management partner. There are plenty of firms out there competing for you business, but how do you know who to trust? You don't simply need a  property manager who will get your rent check and call it a day—instead, you need a bonafide partner who will work overtime to maximize the return on your investment and keep your home healthy for years to come.
At Rental Guys Property Management, we aim to provide the best property management in Greater Jacksonville. Whether you're in Duval, St. Johns, or Clay County, our team is perfectly positioned to help. We're not a huge chain operation that tries to use a one-size-fits-all approach. Our qualified team is made up of local real estate experts who work around the clock to monitor your home and identify ways to boost your earning potential.
Talk to Us About Your Rental Needs
We are a team committed to the highest standards. Let's get started today: 904-254-2766tel:904-254-2766
Your Choice For Jacksonville Property Management